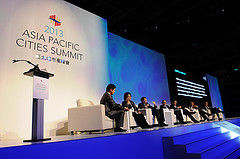 Ecommerce sales in five of the largest markets in the Asia-Pacific region will soon surpass all e-retail sales in North America and Europe combined, Forrester Research Inc. has predicted.
Taken together, online retail sales in the five markets — Australia, China, Japan, South Korea and India — are growing rapidly, from $398 billion in 2013 to $858 billion in 2018, a compound annual growth rate of 16.61%, Forrester projects in the report, entitled "Asia Pacific Online Retail Forecast, 2013 to 2018," by analyst Zia Daniell Wigder.
Forrester predicts e-retail sales in these five Asia-Pacific markets will reach $768 billion in 2017, nearly 17% more than the $658 billion Forrester predicts in 2017 for the U.S., Canada and Western Europe combined. (Forrester has not yet issued 2018 e-commerce projections for the U.S. and Europe.)
The report states that Australian online retail sales will grow 10% per year from $23 billion in 2013 to $38 billion in 2018. Australians buy a lot from foreign online retailers, encouraged both by a relatively small number of domestic players and the fact that the first A$1,000 in purchases made from a foreign retailer enter the country duty-free. Purchases made under this exemption, the government reports, totaled $6.23 billion in 2011-12. More global brands are entering the online space in Australia, taking advantage of the relatively minor localization required for brands that operate in the United States or United Kingdom.
To read more on this story, click here.